Windows 10 Safe Mode loads the operating system with a minimal set of system files and device drivers – just enough to boot the Windows OS. In Safe Mode, the startup programs, add-ons, etc.settings, do not run. We usually boot into Safe Mode, when we need to troubleshoot issues. This post will show you how to enable and start or boot Windows 10 in Safe Mode. There may be other ways, but we will cover only 2 of the most convenient ways.
Also Read: How to Fix intelppm.sys Blue Screen error on Windows 10
Boot Windows 10 in Safe Mode
There are three easy ways you can boot Windows 10 in Safe Mode:
Press Shift and then click on Restart
Open Recovery section in Update & Settings and click on Restart now.
Use MSConfig or System Configuration Utility and select the Safe boot and Minimal options setting and restart.
Let us take a look at them in detail.
1] Using Advanced Startup Options
The easiest way to boot Windows 10 into Safe Mode, would be to press Shift and then click on Restart. This will reboot your Windows 10 computer into Advanced Startup Options.

https://7fef827aa69bdb428fa1bc0116afe461.safeframe.googlesyndication.com/safeframe/1-0-38/html/container.htmlAlternatively, open the Settings app > Update & Security > Recovery. Under Advanced startup, click on Restart now.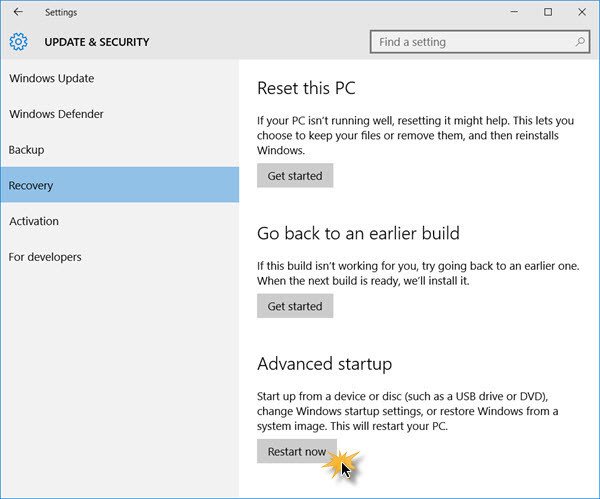 When you follow any of the two methods mentioned, your Windows 10 computer will restart, and you will see the following screen.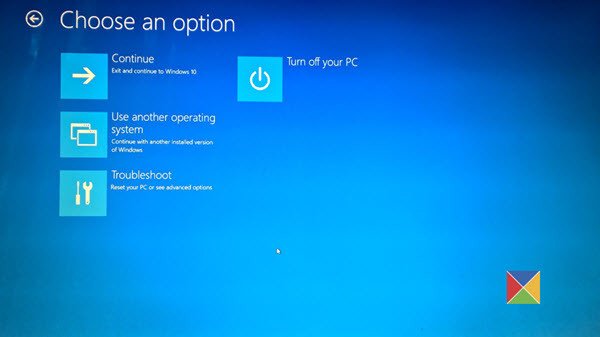 Click on Troubleshoot to proceed.
Now follow the steps laid down in Advanced Startup options in Windows 10. It will take you through the entire process starting with – Troubleshoot > Advanced Options > Startup Settings > Restart > Press No 4 key.
Also Read: Network Adapter missing in Windows 10: How to fix it
If you have followed the procedure correctly, you will finally reach Startup Settings screen, from where you will be able to enable Safe Mode.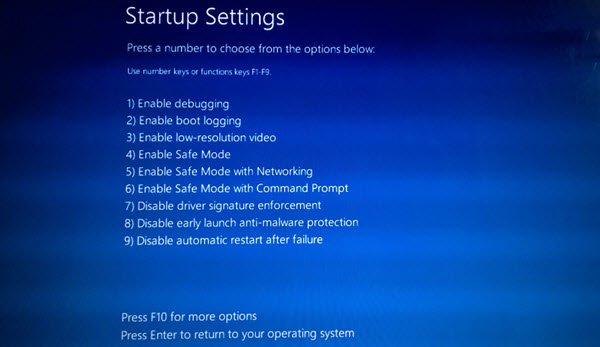 Press the '4' key, and your computer will restart and enter Safe Mode. To reboot in Safe Mode with Networking, press '5' key. To reboot in Safe Mode with Command Prompt, press the '6' key.
You will see a black desktop with a Safe Mode watermark in the bottom left and right sides.
Read: How to Enable F8 Key to Boot into Safe Mode on Windows 10
2] Using System Configuration Utility
The other simple way, of course, is by using the built-in System Configuration Utility. From the Win+X Menu, open Run box, type msconfig and hit Enter.
Under the Boot tab, check the Safe boot and Minimal options. Click Apply/OK and exit. On a restart, your computer will enter Safe Mode directly.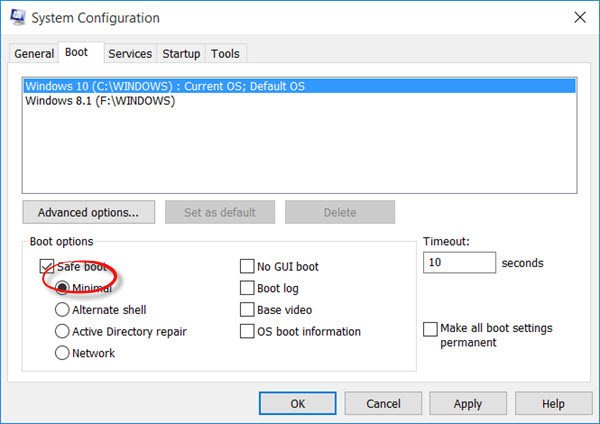 You can now work in the Safe Mode.
Before you exit, remember to open msconfig and uncheck the Safe Boot check box, click Apply/OK and then on Restart, so that on reboot, your computer will not again boot in safe mode – but instead will boot to your desktop.