Outlook Error 0x80040600 – If there's some damage to the Outlook PST file or it got corrupted somehow then, users can experience various types of issues. For example, they may find it difficult to access emails, contacts, tasks, calendars, journals, notes or other data items. If you receive outlook 2013 error 0x80040600 in Outlook, then this post will help you fix the issue.
Three Setps to Fix unknown Outlook error 0x80040600
The Personal Storage Table or PST file is like a database for Outlook. It stores elements like email messages, contacts, notes, entries, etc. So, with the passage of time, there can be an overload of PST files, leading to its corruption or omission automatically, eventually causing the error to show up.
Find the default PST file that you want to repair
Run Inbox Repair tool (ScanPST.exe download) to repair Outlook PST file
Recover repaired items to a new .pst file
Also Read: How to fix Outlook error 0x80042108 in Windows 10
Follow the steps in sequence and see if it solves the problem for you!
1] Find the default PST file that you want to repair
Go to 'Mail' option via 'Control Panel'.
Select the Outlook profile that you would like to repair by clicking on 'Show Profiles' option.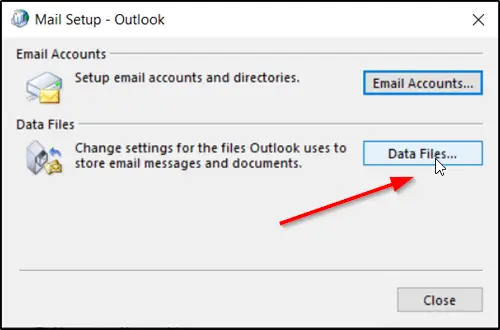 Next, choose 'Properties', click on 'Data Files' to get the location of the default PST file.
Note the location of PST file.
2] Run Inbox Repair tool (ScanPST.exe download) to repair Outlook PST file
Launch Microsoft Outlook Inbox Repair tool (Depending upon the version of Office you are running; it's location may vary). In my case, it was residing under the following –
C:\Program Files (x86)\Microsoft Office\root\Office16
Inbox Repair tool or ScanPST.exe is a utility to repair corrupt Outlook PST & OST personal data files. The built-in utility is provided by Microsoft.
Before proceeding further, close the Outlook program, if it is running.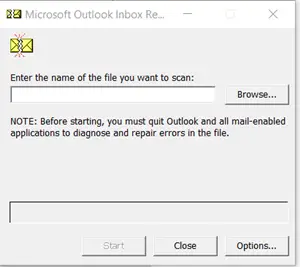 In the Inbox Repair tool, type the path and the file name of your personal folders (.pst) file or click 'Browse' to locate the file by using the Windows file system, and then click Start.
It is important to mention here that the Inbox Repair Tool cannot repair every problem that is detected Outlook Error 0x80040600. In some cases, items may not be recovered if they were permanently deleted or corrupted beyond repair.
During the correction, the Inbox Repair Tool may need to be run several times in order to fully repair your personal folder (.pst) file.
3] Recover repaired items to a new .pst file
After you have run the Inbox Repair tool and its job is done, you can start Outlook and recover repaired items. Optionally, you can try to recover additional repaired items from the backup personal folder. For this,
Create a new Personal Folders (.pst) file entry in your profile. Thereafter, you can move the recovered items to your new Personal Folders (.pst) file. So, start Outlook. If you have multiple profiles in Outlook, select the profile that contains the Personal Folders (.pst) file that you tried to repair.
Press CTRL+6 to turn on 'Folder List' view.
Under it, the following recovered folders should be visible
Recovered Personal Folders-
Calendar
Contacts
Deleted Items
Inbox
Journal
Notes
Outbox
Sent Items
Tasks
However, all these recovered folders may be empty since it represents a rebuilt .pst file. A folder named 'Lost and Found' should also be seen. It contains folders and items that the Inbox Repair Tool recovered. Items missing from the Lost and Found folder may be beyond repair.
Now, to create a new Personal Folder (.pst) file in your profile.
Open 'Microsoft Outlook' click on the 'File' tab on the ribbon, and then switch to the 'Info' tab on the menu.
Next, click the 'Account Settings' tile, and then choose 'Account Settings' option again.
Switch to the 'Data Files' tab.https://44be24f3cdf2be17c6b72bfab4d7b5d8.safeframe.googlesyndication.com/safeframe/1-0-37/html/container.htmlClick 'Add' to open the Create or Open Outlook Data File dialog box.
Enter a file name for your new Outlook Data (.pst) file, and then click OK.
You should have a new Outlook Data (.pst) file in your profile.
Please note that the steps outlined for the above section may vary, depending on which version of Outlook you are running.
Article Source: https://www.thewindowsclub.com/unknown-error-0x80040600-outlook