When trying to activate Windows on your computer, you may see different types of activation error codes. In recent times a similar error code 0xc004f075 and Windows Update error 0x80070541 has been reported by many Windows users. This error can also occur during Windows Update if it detects an activation problem. If you are facing Windows Update or activation error code 0xc004f075, then this post can help you to fix this problem. You can see the following message:
The software licensing service reported that the operation could not be completed because the service was stopping, error code 0xc004f075 – SL_E_SERVICE_STOPPING.
Windows update or activation error code 0xc004f075
To fix Windows Update or activation error code 0xc004f075, follow the suggestions below:
Run the windows update troubleshooter
Run activation troubleshooter
Check Windows Update and Activation-Related Services
Run slmgr.vbs command
Use slui 3 command
Manually download and install updates
Let us now look at them in detail:
1] Run Windows Update Troubleshooter
Windows 10 comes with an inbuilt troubleshooter tool that you can use to fix most update-related problems on your PC. Here is a quick guide to running this application:
So first of all, open Windows Settings using the Windows + I keyboard shortcut.
Click on Update and Security category.
Now select Troubleshooting> Additional Troubleshooter.
On the next page, select Windows Update, and then click the Run Troubleshooter button. At this time, you may need to wait for some time until it completely identifies and fixes the problem.
Once done, close the troubleshooter window and restart your device.
Apart from this, you can also try running Windows Update Online Troubleshooter.
Also Read: Fix Windows 10 Activation error 0x8007267C
2] run activation troubleshooter
You can run the Windows 10 activation troubleshooter. This will help you identify the most common activation problem on your device. You can use the steps below to run the device:
To start it, right-click on Start and choose the Settings option from the menu list.
Then click on the update and security category.
Scroll down and choose the Activation button from the left pane.
Now switch to the right and click on the troubleshooting link.
At this time, you may need to wait for some time until the troubleshooting process is complete.
Once done, restart your computer and check for error code 0xc004f075.
3] Check the status of some Windows Services
If you are still experiencing problems, you can check the status of some Windows services and check if all services are running. To do this, follow the steps below.
Open Windows Services Manager and check the services associated with Windows Update such as Windows Update, Windows Update Medicine, Update Orchestrator Services, etc. are not disabled.
Also Read: Fix Invalid Recovery Area error on Windows 10
The default configuration on a standalone Windows 10 PC is as follows:
Windows Update Service – Manual (Trigger)
Windows Update Medical Services – Manual
Cryptographic Services – Automated
Background Intelligent Transfer Service – Manual
DCOM Server Process Launcher – Automatic
RPC Endpoint Mapper – Automatic
Windows Installer – Manual.
This will ensure that the necessary services are available.
In addition to the direct service, you should find out the dependencies of the Windows Update service and make sure that they are running or not.
To get started, search for "services" in the taskbar search box and click on the search result. After opening the Services window, find Windows Update, DCOM Server Process Launcher and RPC Endpoint Mapper. Check if they are running.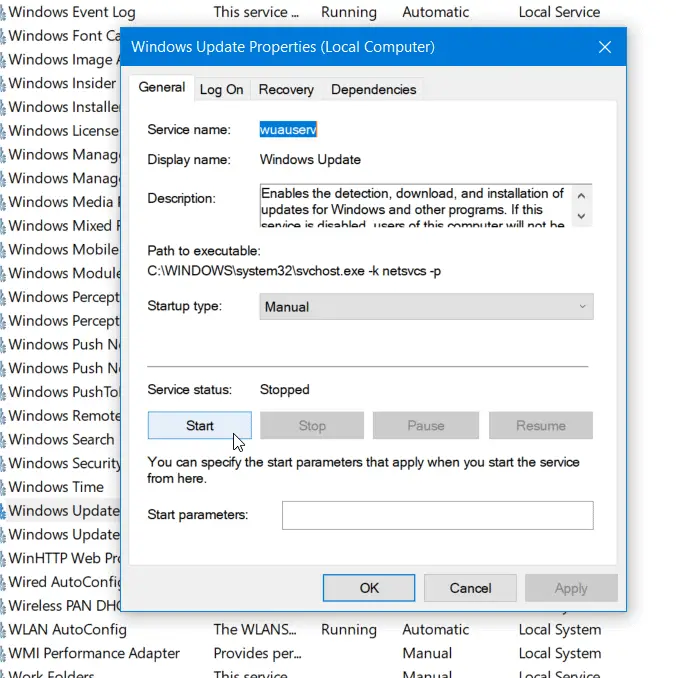 If not, then you need to start those services one by one.
4] use the slmgr command
You can try running the SLMGR command at an elevated command prompt to deactivate, uninstall, and reinstall Windows product keys.
Type press cmd 'in the search bar and then press Ctrl + Shift + Enter to open a command prompt with administrative privileges.
If the UAC prompts on the screen, click 'Yes' to grant administrative privileges.
Also Read: Fix Windows Update error 0x80070541 on Windows 10 KB5001649
Now in the command prompt window, type the following command and hit enter after each command.
This will reset the key:
slmgr / ipk
The following command will make Windows OS attempt activation:
slmgr / ato
In the command line above, don't forget to replace the Windows key with your license key.
Once you are done, restart your PC and watch.
5] use the slui 3 command
You can also activate Windows using the SLUI.EXE 3 command. You can find more information in this post on how to activate Windows Enterprise Edition.
In this method, you can use the slui.exe command line to fix this error code. To run the command, do the following:
Right click on the Start button and click on Run option.
Type "Slui 3" in the Run dialog box and press the Enter key.
If the UAC prompts on your computer screen, click the Yes button.
On the next screen, enter the 25-digit product key and then click the Next button.
6] Download and install the update manually
If none of the above solutions help you fix the error code, then you will have to manually download and install the update from the Microsoft Update Catalog site.
You may be interested in these posts:
Troubleshooting Windows Update Issues
Troubleshooting Windows Activation States
Conclusion
If you are stil facing the Windows Update or activation error code 0xc004f075 issue, then you can use toll free number service +1-877-804-0107.